BELLA HADID LIFTS THE VEIL ON MENTAL HEALTH AND THE FACADE OF PERFECTION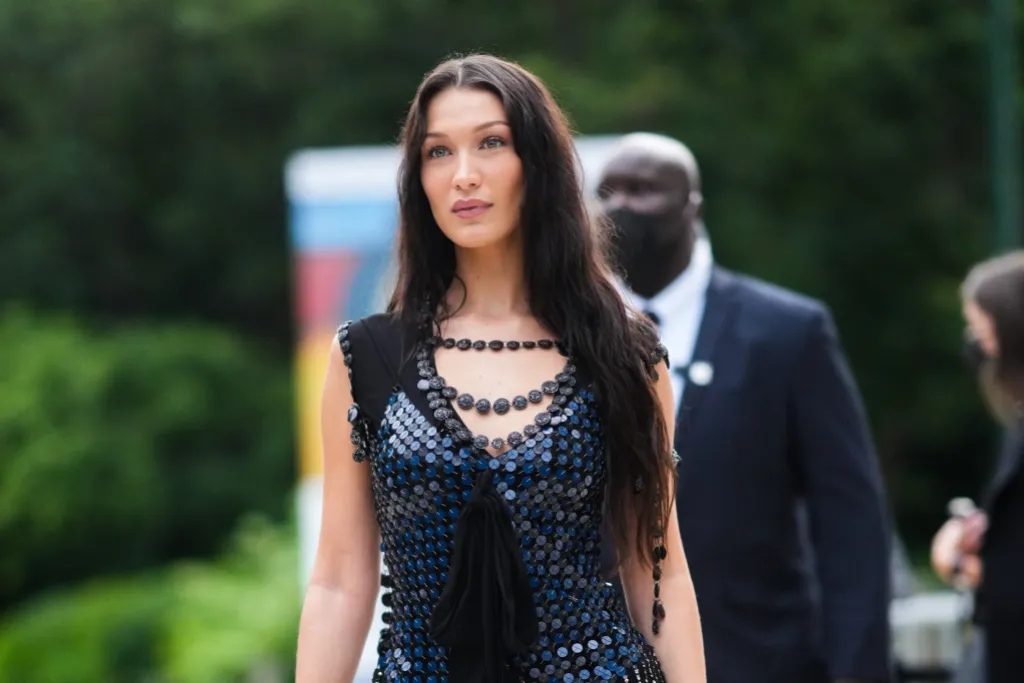 In recent years, Bella Hadid has graced countless runways, faced an innumerable amount of ad campaigns, and starred in what seems like millions of fashion editorials. A day in the life of a supermodel may seem like a luxe and lavish experience, but the realities of the jet-setting career can take their toll.
In speaking with the Wall Street Journal, the 25-year-old Hadid opened up about her struggles with mental health and her Lyme disease diagnosis. With the scheduling conflicts, and considerable amount of travel that comes along with her successful career, Hadid has had to really commit to healthy habits and consistent routines in order to maintain her high-octane lifestyle.
Constantly inundated with pristine Instagram imagery, Hadid is just as prone to fall victim to these idealized tropes as anyone else, but with the added burden of the paparazzi chasing her down. Expressing her anxiety to get dressed each morning, Hadid told WSJ's Lane Florsheim, "I haven't had a stylist in a long time, maybe two years now. I was in such a weird place mentally that it was really complicated for me to get out of the house and put an outfit together, especially with the anxiety of [paparazzi] being outside and all that. In the last year, it was really important for me to learn that even if people talk about my style or if they like it or if they don't, it doesn't matter, because it's my style. When I leave the house in the morning, what I think about is: Does this make me happy? Do I feel good in this and do I feel comfortable?"
Having a past record of posting crying selfies on Instagram, Hadid claims the act makes her feel a little less lonely. In the realm of social media, not everything is as it seems. With many feeling the need to compete or compare themselves to an ultra-edited and curated version of someone else's life, many need reminding of the façade it cultivates. Holding up a mirror to the rest of the world, who better than the beautiful Hadid to reiterate the fact that no one is perfect? Demonstrating that it's okay not to be okay, Hadid laments, "Even though on Instagram things look so beautiful, at the end of the day, we are all cut from the same cloth."
Trying to wake up around 8:00 a.m., Hadid's Monday morning routine is her most essential- to keep her on a healthy path for the duration of the week. Staying away from her phone until a bit later in the day, the supermodel completes about three pages of journaling in the morning before she moves on to her gratitude meditation.
Keeping up with exercise, Hadid enjoys long walks, boxing, rowing, and Pilates to keep her energy up and maintain her defined muscle tone. Making note that her "body is a temple," the Victoria's Secret model's New Year's resolution is to get to the gym more often, citing that the social aspect feels just as important to her as working out.
Taking it day by day, and flexibly transitioning between the ups and downs, Hadid's main priority is taking care of herself and living in the moment. With the help of realizing that other's share her sentiments and struggles, Hadid is better able to cope with overwhelming feelings of stress, depression, and anxiety, knowing that no matter what, she's not alone.
topics:BELLA HADID, ARTICLE, INTERVIEW, HADID, GIGI HADID, FASHION, STYLE, SUPERMODEL, MENTAL HEALTH, WELLNESS, WELLNESS JOURNEY, SELF LOVE, SELF CARE, DEPRESSION, MENTAL HEALTH AWARENESS, STRESS, ANXIETY, INSTAGRAM, HEALTHY HABITS, HEALTHY ROUTINES, HEALTH, MODEL, RUNWAY MODEL
Getting Started with MySCAD Login
In the fast-paced world of education, technology plays a pivotal role in enhancing the student experience. One such platform making waves in the academic sphere is MySCAD. In this article, we'll delve into the intricacies of getting started with this login, exploring its features, benefits, and the seamless experience it offers to students.
I. Introduction
A. Definition of MySCAD
MySCAD, short for My Savannah College of Art and Design, is a comprehensive online platform designed to streamline and enhance the academic journey for students. It serves as a central hub for various resources, academic tools, and essential information.
B. Importance of MySCAD login
The MySCAD login is not just a gateway; it's a key that unlocks a world of possibilities. From accessing course materials to connecting with fellow students and faculty, the login is the first step toward a connected and efficient academic life.
II. Setting Up MySCAD Account
A. Registration process
Getting started with MySCAD is a breeze. The registration process involves providing basic information, creating a unique username, and establishing a secure password. Once registered, students gain access to a personalized academic portal.
B. Profile customization options
This understands the value of individuality. The platform allows users to customize their profiles, adding personal touches that go beyond the traditional academic experience.
III. Navigating the MySCAD Dashboard
A. Overview of the dashboard features
The MySCAD dashboard is a digital command center, offering a comprehensive overview of courses, announcements, and upcoming events. Navigating through the features ensures a smooth and intuitive user experience.
B. Accessing key sections
From academic resources to community forums, the dashboard provides access to various sections tailored to the specific needs of students. Understanding these sections is crucial for maximizing the platform's benefits.
IV. MySCAD Login Troubleshooting
A. Common login issues
Even the most seamless platforms can encounter hiccups. This section addresses common login issues students might face and provides step-by-step solutions to ensure uninterrupted access.
B. Step-by-step solutions
Whether it's a forgotten password or technical glitch, the article guides users through troubleshooting steps, ensuring they can quickly resolve login issues and focus on their academic journey.
V. Benefits of MySCAD Login
A. Streamlined access to academic resources
This aggregates essential academic resources in one place, simplifying the process of accessing course materials, lecture notes, and additional study aids.
B. Integration with student services
The platform goes beyond academics, seamlessly integrating with student services such as counseling, financial aid, and extracurricular activities.
VI. MySCAD Security Measures
A. Two-factor authentication
Ensuring the security of student accounts is a top priority. It employs two-factor authentication to add an extra layer of protection, safeguarding sensitive information.
B. Data protection practices
The article explores the robust data protection measures in place, giving students peace of mind as they engage with the platform.
VII. MySCAD Mobile App
A. Features and functionalities
For students on the go, the MySCAD mobile app brings the platform's features to their fingertips. This section outlines the app's functionalities and how to make the most of them.
B. How to download and use
Providing a step-by-step guide to downloading and using the mobile app ensures students can stay connected wherever they are.
VIII. Student Experiences with MySCAD
A. Testimonials and success stories
Real-life experiences from students highlight the positive impact this has had on their academic journeys. These stories add a personal touch, resonating with readers.
B. Impact on academic life
Exploring how this has transformed the academic lives of students, this section emphasizes the platform's role in fostering success and growth.
IX. Future Enhancements to MySCAD
A. Upcoming features
This is committed to continuous improvement. This section provides a sneak peek into upcoming features and enhancements, keeping users excited about the platform's evolution.
B. Community feedback and suggestions
User feedback is invaluable. The article encourages users to share their thoughts, fostering a sense of community and collaboration in shaping the platform's future.
X. MySCAD for Alumni
A. Continued access post-graduation
The relationship with this doesn't end at graduation. Alumni can continue to benefit from the platform, accessing resources and staying connected with the community.
B. Alumni success stories
Highlighting success stories of alumni who attribute part of their achievements to this showcases the platform's enduring impact.
XI. Integrations with Other Platforms
A. Collaborations with industry tools
MySCAD doesn't operate in isolation. This section explores how the platform collaborates with industry tools, enriching the overall student experience.
B. Enhancing the user experience
Integrations with other platforms ensure a holistic approach to education, preparing students for the real-world challenges they'll face in their careers.
XII. MySCAD Updates and Notifications
A. Staying informed about changes
MySCAD is dynamic, with updates enhancing features and addressing user needs. ThisIn the fast-paced world of education, technology plays a pivotal role in enhancing the student experience. One such platform making waves in the academic sphere is this . In this article, we'll delve into the intricacies of getting started with this login, exploring its features, benefits, and the seamless experience it offers to students.
Unveiling the Excellence of Spanish D 94: A Revolutionary Innovation in Audio Technology
In the dynamic world of audio technology, Spanish D 94 has emerged as a groundbreaking player, revolutionizing the way we experience sound. This article explores the exceptional features, cutting-edge advancements, and the immersive audio experience that Spanish D 94 brings to enthusiasts and professionals alike.
The Spanish D 94 Phenomenon
That represents a leap forward in audio engineering, combining precision, innovation, and a commitment to delivering unparalleled sound quality. Whether you're a music aficionado, a gaming enthusiast, or a professional in the audio industry, this is set to redefine your auditory experience.
1. High-Resolution Audio: Elevating Your Listening Experience
At the core of Spanish D 94 is the commitment to high-resolution audio. This technology ensures that every nuance of the sound is captured and reproduced with exceptional clarity. Whether you're listening to your favorite music, watching movies, or gaming, Spanish D 94 delivers an audio experience that transcends traditional boundaries.
2. Immersive Surround Sound: A 360-Degree Audio Adventure
Step into a world where sound surrounds you from every direction. Spanish D 94's immersive surround sound technology creates a 360-degree audio landscape, making you feel like you're right in the heart of the action. Whether it's the rustle of leaves or the roar of engines, the precision of this enhances the immersive quality of your audio experience.
Technological Marvels: Inside the Spanish D 94
Delve into the technological marvels that make this a standout in the audio industry.
3. Advanced Signal Processing: Precision in Every Note
Spanish D 94 employs state-of-the-art signal processing technology. This ensures that every note, beat, and tone is reproduced with utmost precision, maintaining the integrity of the original audio source. The result is an auditory experience that captures the essence of the artist's intent.
4. Wireless Connectivity: Seamless Integration
Say goodbye to tangled wires and limitations. This embraces wireless connectivity, allowing you to enjoy your audio experience without constraints. Whether it's Bluetooth connectivity for your mobile devices or seamless integration with your home theater system, that ensures a hassle-free and clutter-free audio setup.
Spanish D 94 in Action: Real-World Applications
Experience the versatility of Spanish D 94 in various aspects of your audio-centric life.
5. Gaming Brilliance: A Competitive Edge
For gamers, audio is a crucial component of the immersive experience. This not only enhances the gaming environment with its surround sound capabilities but also provides a competitive edge by allowing gamers to pinpoint the direction of in-game sounds with remarkable accuracy.
6. Studio-Quality Recording: A Professional's Choice
For audio professionals and musicians, Spanish D 94 is a game-changer in studio-quality recording. The precision and fidelity it offers ensure that the recorded audio retains its authenticity, making it an invaluable tool for those in the music production industry.
Conclusion: Spanish D 94 — Where Innovation Meets Sonic Brilliance
In conclusion, that isn't just a speaker system; it's a revolution in audio technology. With its emphasis on high-resolution audio, immersive surround sound, and advanced technological features, that sets a new standard for what is possible in the realm of audio experiences.
As you seek to elevate your auditory adventures, consider the brilliance that brings to the table. Whether you're a casual listener, a hardcore gamer, or a professional in the audio industry, this promises an unparalleled sonic journey. Embrace innovation, embrace excellence — choose Spanish D 94 for a sound experience like no other.
Everything you need to know: kecveto
Introduction
Welcome to the ultimate guide on kecveto! In this comprehensive article, we'll delve deep into the world of kecveto, leaving no stone unturned. Whether you're a beginner seeking basic insights or an expert looking for advanced information, this article is your go-to resource.
The Basics of Kecveto
In this section, we'll lay the foundation by explaining the fundamental concepts of kecveto.
What is Kecveto?
Kecveto, in its essence, is a multifaceted phenomenon that touches various aspects of life. It's a term that encompasses a wide range of meanings and applications.
History and Origins
To understand kecveto fully, it's essential to explore its historical roots and how it has evolved over time.
Importance of Kecveto
Why should you care about kecveto? We'll explore its significance in today's world and why it's relevant to you.
Applications of Kecveto
Kecveto isn't just a theoretical concept; it has practical applications that can benefit your life.
Kecveto in Everyday Life
Discover how kecveto can be integrated into your daily routine to enhance various aspects of your life.
Kecveto in Business
Explore how kecveto strategies can be applied to boost business performance, from marketing to decision-making.
Kecveto in Personal Development
Unlock the secrets of personal growth through kecveto practices and techniques.
Expert Insights on Kecveto
In this section, we'll delve deeper into kecveto with insights from experts in the field.
Key Principles of Kecveto
Learn from top experts about the core principles that underlie kecveto and how to apply them.
Success Stories
Discover real-life success stories where kecveto played a pivotal role in achieving remarkable results.
Everything You Need to Know: Kecveto
This section is dedicated to providing you with a comprehensive overview of kecveto.
FAQs about Kecveto
What are the key benefits of practicing kecveto?
How can I incorporate kecveto into my daily routine?
Are there any risks associated with kecveto?
Can kecveto be applied to improve relationships?
Is kecveto suitable for individuals of all ages?
Where can I find reliable resources to learn more about kecveto?